Sainik School Ghorakhal Admission 2023: Sainik School Ghorakhal Admission 2023-2024 Notification| Application Form| Prospectus for admission in Classes 6 & 9 Get here! Sainik School Ghorakhal Prospectus 2023 also get from the link provided by us. Sainik School Ghorakhal Entrance Exam 2023 for Class VI and IX will be held in January month. The Sainik School Ghorakhal was established on 21 March 1966 near Nainital. This is one of the Oldest Sainik Schools established in Ghorakhal.
Sainik School Ghorakhal Admission 2023-24 Released

The Sainik School Ghorakhal (Uttarakhand) Admission procedure for the academic year 2023-24 started on 21 October 2022. Lots of candidates are waiting for admission to Sainik School Ghorakhal. In Sainik School Ghorakhal number of seats (tentative) are 65 seats for the 06th Class and 20 seats for the 09th Class. Interested students can take the admission by qualifying for the entrance exam, medical exam and personal interview.
New Update:
Sainik School Ghorakhal (Uttarakhand) Admission 2023 Online Registration started on

21 October 2022

. Direct link to apply online and other details are updated below.

Admissions to Sainik Schools and New Sainik Schools will be handled solely through e-Counselling.
Candidates will be able to register and fill out their choices starting on or after March 6, 2023. Please check the site frequently for the most recent schedule regarding Sainik School e-counselling.
In order to make sure that your child can get admission to the Sainik School Ghorakhal you have to ensure that you are updated with all the latest information related to the examination process. This is one of the best schools that aims to give quality and practical education. By ensuring you follow the right channel to sit for the examination, you can be sure of getting admission. Let's look at some of the important information you must know regarding eligibility criteria and other details below.
Sainik School Ghorakhal Admission 2023 Eligibility Criteria
Education qualification– To begin with, we shall start with the discussion related to education qualification. There is some fixed education qualification that is decided by the authority. The qualification is different for both classes 6th and 9th. For the students of class 6th as per the rules, an entrance examination has to be given and it will be automated optical mark recognition that is based on the syllabus pattern of the class 5th examination and for the class 9th the test that will be conducted will be based on 08th standard.
Candidates should have cleared or passed the previous year's class. Appearing students are also eligible to apply for admission to the next class. There be an interview will be conducted and the final decision shall be made.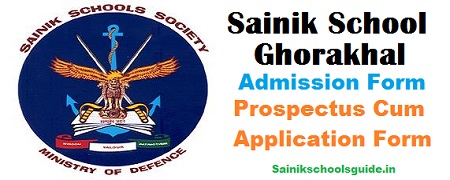 Age limit– The basic age limit for the class 6th students has to be a maximum of 12 years and a minimum of 10 years as on 31 March 2023 by the date of 01 April 2011 to 31 March 2013 and for the students of class 9th the age has to be minimum 13 years and maximum 15 years (01 April 2008 to 31 March 2010) as on 31 March 2023. This age has to be defended with the date of birth certificate.
Sainik School Ghorakhal 2023 Application Fee

For General/Defence/OBC Category – Rs.550/-

For SC/ST Category – Rs.400/-

Candidates can make the application fee payment through Online Mode (Net Banking/ Credit Card/ Debit Card or Bank Challan)
Join Us on Telegram For Regular Updates
Sainik School Ghorakhal Admission 2023 Apply Online
Procedure to apply– Online Mode is accepted by Sainik School Ghorakhal (UK) 2023. The process that is involved in order to apply for admission is very simple. The best way is to keep in touch with the official website of the authority. With the help of the official website, you will be able to get Admission Form or Prospectus Cum Application Form.

Method (Online Mode): Eligible aspirants can apply Online mode on the official website (aissee.nta.nic.in). Aspirants can also get the same link from the official website of Sainik School Ghorakhal. Instructions and guidelines are available on the official website.
Can Also See: Sainik School Lucknow Admission 2023 Apply Online !!
Eligible students must provide the age limit, educational qualification, and personal and other necessary details while applying online. First make sure that the details entered in the Sainik School Ghorakhal Admission 2023 Online application form, must be correct and as per the academic record. Pay the application fee and submit the online form. The application form is necessary during document verification and admission purpose. So please keep it safe until your admission process has not been completed.
School Address:
Sainik School Ghorakhal, PO – Ghorakhal
Nainital, Uttarakhand (263156)
Important Dates of Sainik School Ghorakhal Admission 2023

Date of Entrance Examination – 08 January 2023
Online Application Form Available between – 21 October 2022

to 30 November 2022



Issue of AISSEE 2023 Admit Card – 04 January 2023
Result Declaration of AISSEE 2023 Entrance Exam – 24 February 2023
Note: Official Dates of registration for Sainik School Ghorakhal (UK) Admission 2023 are updated now.

Important Links for Admission in Sainik School Ghorakhal (Uttarakhand) 2023

Get more information by visiting the official website of Sainik School Ghorakhal. Aspirants can get last updates by regularly visiting our website – sainikschoolguide.in