Are you or your child aspiring to join prestigious institutions like Sainik Schools, Military Schools, RIMC, or Navodaya Vidyalayas? Look no further! NavGuru Academy, located in the heart of Delhi, is your one-stop destination for top-notch coaching that will set you on the path to success.
About NavGuru Academy
Welcome to NavGuru! We take immense pride in providing high-quality coaching to students preparing for All India Sainik School Entrance Exam (AISSEE), Common Entrance Test (CET), Jawahar Navodaya Vidyalaya Selection Test (JNVST), and Lateral Entry Selection Test (LEST) exams for Sainik Schools (SS), Rashtriya Military Schools (RMS), Jawahar Navodaya Vidyalayas (JNV), and Rashtriya Indian Military College (RIMC) at Dehradun.
At NavGuru Academy, we go beyond just exam preparation – we offer comprehensive support for interviews, e-counselling, and medical tests.
Our state-of-the-art center is equipped with modern infrastructure and facilities to enhance the learning experience. Our spacious and well-lit classrooms, air conditioning, and a library stocked with relevant study material create the perfect environment for focused study. We also understand the importance of technology in today's education, which is why we provide access to online resources and practice tests to supplement classroom learning.
Meet Our Esteemed Faculty
Our strength lies in our dedicated and experienced faculty members who are committed to your success. Meet some of the exceptional educators at NavGuru Academy:
AJ Sir: An ex-student of RMS-Ajmer, AJ Sir secured AIR-1.
Hemant Sir: Former RMS-Ajmer student, achieved AIR-21, and cracked Sainik School Chittorgarh.
Pradeep Sir: A distinguished ex-student of RMS-Ajmer, former School Adjutant.
Sandeep Sir: An exemplary ex-student of RMS-Ajmer, former School Captain.
With such a strong team, we blend expertise, experience, and effective teaching methods to help you excel in your examinations.
Course Highlights
At NavGuru Academy, we leave no stone unturned in providing the best education possible. Our course highlights include:
Comprehensive coverage of the syllabus.
Interactive sessions to clarify doubts.
Proven strategies for time management.
Mock tests and practice papers for real-time assessment.
Personalized attention to ensure your success.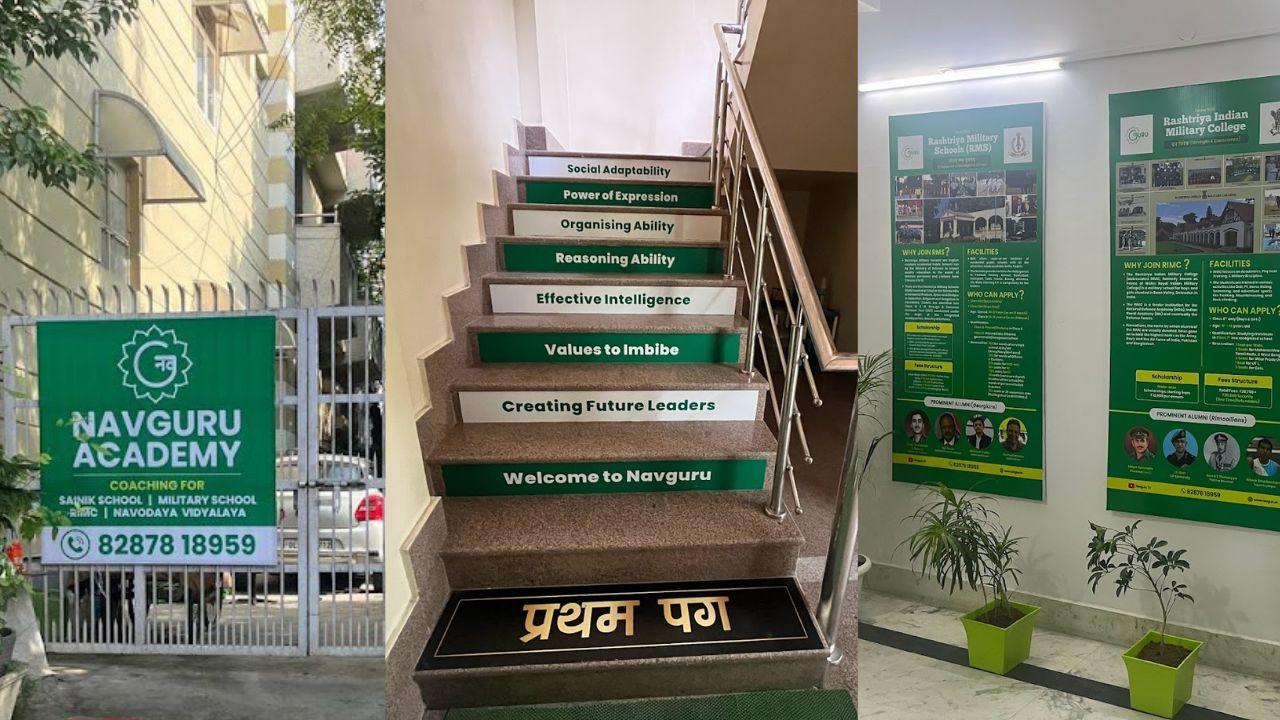 Why Choose NavGuru Academy?
Track record of successful students.
Expert faculty with firsthand experience.
Holistic approach to learning.
Student-centric teaching methodology.
We understand the diverse needs of our student community, which is why our reach extends to both urban and rural areas. Our teaching style is tailored to cater to the understanding levels of our audience, making learning engaging and effective.
Enroll with NavGuru Academy Today
Don't miss this golden opportunity to set yourself or your child on the path to success! Join NavGuru Academy today and witness your dreams turning into reality.
Contact Information: NavGuru Academy
Address: Opposite Dabri Police Station, Upper Ground, RZ-1A, 1, Gali No. 1, Block A, Syndicate Enclave, Dabri, New Delhi, Delhi 110045
Proximity Details:
Metro Stations:
Dabri Mor (Magenta Line) – Only 0.5 kilometers away (nearest metro station).
Uttam Nagar West (Blue Line) – Approximately 2.2 kilometers distant.
Janakpuri West (Blue Line) – Located roughly 2.7 kilometers away.
Railway Stations:
Tilak Nagar Railway Station – Approximately 2.4 kilometers from the academy.
Dwarka Mor Railway Station – Situated around 3.3 kilometers away.
Janakpuri Railway Station – About 3.8 kilometers from the academy.
Locality:
NavGuru Academy is nestled in the residential enclave of Dabri in West Delhi, an area rich with amenities such as schools, colleges, hospitals, and shopping malls.
At NavGuru Academy, we are committed to guiding you towards a brighter future. Your aspirations are our responsibility, and we are here to help you achieve them. Join us, and let's embark on this transformative journey together.
Follow NavGuru Academy
Connect with NavGuru TV
Join NavGuru Academy and embark on a journey towards excellence in Sainik Schools, Military Schools, RIMC, and Navodaya Vidyalayas. Call us today to learn more about our coaching programs and how we can help you or your child succeed! 🌟📚🎯