Are you looking for inspiration from some of the most accomplished individuals who have passed out from the Rashtriya Indian Military College (RIMC)? Look no further! In this blog, we will introduce you to five of the most prominent RIMC alumni who have made their mark in various fields.
RIMC is a premier public school located in Dehradun, India. The school has produced some of the most outstanding personalities, including army generals, politicians, business leaders, and scientists. Let's take a look at some of these distinguished RIMC alumni.
Major Somnath Sharma, PVC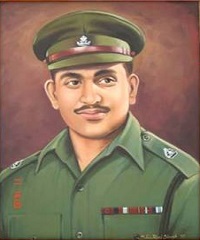 Major Somnath Sharma, PVC (Posthumous) was the first recipient of the Param Vir Chakra, India's highest military award for gallantry in the face of the enemy. He was born on 31 January 1923 in Himachal Pradesh and served in the Indian Army during the 1947-48 Indo-Pak War.
Major Sharma made the ultimate sacrifice for his country and his courage and bravery continue to inspire generations of Indians. His legacy as a hero of the Indian Armed Forces remains an important part of India's military history.
Lt Gen Premindra Singh Bhagat
Lieutenant General Premindra Singh Bhagat, PVSM, VC was a distinguished officer in the Indian Army who served during the Indo-Pakistan War of 1971. He was awarded the Param Vishisht Seva Medal (PVSM) for his exceptional leadership and bravery during the war.
Additionally, he was one of the few Indian Army officers to be awarded the prestigious Victoria Cross (VC), the highest military decoration awarded for valour in the face of the enemy. Lt Gen Bhagat's contribution to the Indian Army and his unwavering commitment to the nation serve as an inspiration to many.
Lt Gen CP Mohanty
Lieutenant General Chandi Prasad Mohanty, popularly known as CP Mohanty, is a distinguished officer of the Indian Army. He is currently serving as the Vice Chief of Army Staff and is one of the highest-ranking officers in the Indian Army.
Lt Gen CP Mohanty has held several important positions in the Indian Army and is known for his exemplary leadership, dedication, and strategic thinking. His contributions to the Indian Army have been significant and he is highly respected for his service and achievements.
Gen KS Thimayya, Padma Bhushan
General Kodandera Subayya Thimayya, also known as KS Thimayya, was a renowned Indian Army general who served as the Chief of Army Staff from 1957 to 1961. He was born in Madikeri, Kodagu district, in Karnataka, India, in 1906.
General Thimayya played a crucial role in India's military history, including the 1948 Indo-Pak War, the 1962 Sino-Indian War, and the 1965 Indo-Pak War. He was awarded the Padma Bhushan, the third-highest civilian award in India, for his distinguished service to the nation.
Ritwik Bhattacharya, Squash player
Ritwik Bhattacharya is a renowned Indian squash player who has made significant contributions to the sport. He was born on October 14, 1978, in Kolkata, India. With an illustrious career spanning over two decades, Ritwik has represented India in numerous international tournaments and has won several titles in both individual and team events.
He is known for his impressive skills on the court and his dedication to the sport, which has earned him a place among the top squash players in India. Today, he continues to inspire young athletes to pursue their passion for squash and achieve greatness in their lives.
These RIMC alumni have made remarkable achievements in their respective fields, and their success stories are a testament to the quality education and training provided by RIMC. Their accomplishments inspire us to strive for excellence in all aspects of our lives.